YY windows is a global leading professional windows & doors manufacturer with 20 Years exporting, YY owned 50,000 m² production area and production capacity is 15,000 m2 per month .
YY provide a wide range of customized windows and doors to be satisfied with your life style and home design. Featuring Energy efficient windows , historic windows, Hurricane-resistant windows , classical windows series .
We choose quality & top brand raw materials and All series of our windows provide the Quality and Durability.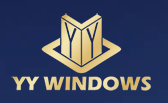 Product Categories
Building Materials
Doors (Folding)
Doors (Metal, Wood, Vinyl and/or Fiberglass)
Doors (Sliding Patio and/or Storm)
Doors (Swing Patio or French)