U40 Leadership Summit Sponsorship
FEBRUARY 26 (8:30 AM TO 5:30 PM)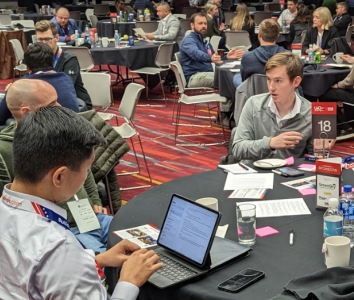 Sponsor the quintessential leadership event for young industry professionals! The 2024 U40 Leadership Summit, in partnership with the National Association of Home Builders, offers real-world applications of technology (including AI), best practices for managing people and projects, and communication skills that turn conflict into win-win resolutions. Attendees will leave with an expanded network of peers and new insights to elevate their careers.
The Summit provides:
The premier community of young industry leaders in the marketplace
Visibility for your brands and products with decision makers today and in the future
Unique networking opportunities and program participation

For inquiries, please reach out to Kim Friedman [email protected].
Interested In A Sponsorship Opportunity? Contact Us!






Lynn Margiotta


VP, Sponsorship & Advertising Sales


Custom Packages for IBS and Production Builders Executive Club




Exhibiting Companies: Key Accounts




P: (202) 266-8685




M: (202) 253-7143




[email protected]

Cheryl Lewis
Manager, Business Development
Craft Techniques Zone, Construction Performance Zone, Remodeling Central, Design Central, Best in American Living Awards
Exhibiting Companies: #, A-C
P: (202) 266-8208
[email protected]

Robin Habberley
Director, Business Development
Sales Central, Multifamily Central, The Nationals Awards
Exhibiting Companies: D-F
P: (202) 266-8051
M: (202) 615-3909
[email protected]

Kim Friedman
Manager, Business Development
Professional Women in Building
Exhibiting Companies: G-O
P: (202) 266-8208
M: (317) 340-4702
[email protected]

Michael Sutton
Manager, Business Development
Video Production Needs, Custom Building Central, 55+ Central
Exhibiting Companies: P-Z
P: (202) 266-8690
M: (240) 426-3994
[email protected]

Brian Rosenthal


Senior Manager, Sponsorship Operations


New Product Zone and Sponsorship Operations




P: (202) 266-8188




[email protected]