In 1960, three brothers started the business. Today Baird Brothers is truly a family business as the children have followed in their footsteps and are active in the business as well. Baird Brothers continues to grow in size each year in order to meet the demands of our customers.

We manufacture and retail high quality hardwood products including; mouldings, flooring, doors, stair parts, butcher blocks, mantels, S4S lumber, plywood, and many other products. If you have a special profile, we are also capable of milling your custom profile.
The options don't stop there though, choose from a multitude of species and finishing options. From the foundational species like White Oak, Red Oak, Hard Maple, and Poplar to the more exquisite species like Cherry, Walnut, Hickory, Brazilian Cherry, and a designer favorite - Quarter Sawn White Oak. Character grades for most aforementioned species are available as well, which provide a more natural and rustic look.
Baird Brothers also stocks and pre-hangs all types of species of interior doors including solid hardwood doors manufactured at our facility.

Through the years many aspects of the hardwood lumber business have changed, however some things have remained the same: The quality of our hardwood products, and the knowledgeable service we expect our people to give to our valued customers. These are two basic principles in which this company is built on. Visit our website to explore the vast array of stock and custom products we can produce to meet the demands of your next project.
ORDERED easily. DELIVERED conveniently. ENJOYED comfortably.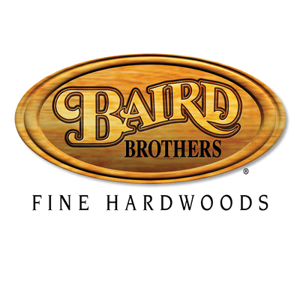 Product Categories
Countertops
Doors (Decorative)
Hardwood Flooring
Millwork
Moldings and Wall Trims
Spindles, Posts and Columns
Stairs and Stair Systems
Wood Products
---
Send Message