A New Legacy of Quality Closet &
Storage Products.
ClosetMaid PRO is an industry leader in home storage and organization, delivering quality products and services to design and construction professionals, home builders, and homeowners. ClosetMaid offers attractive, functional, and durable storage systems designed and engineered for both residential and commercial applications.
ClosetMaid PRO's line of ventilated wire shelving, solid shelf and rod systems, and custom laminate storage systems can satisfy any lifestyle, budget, or taste. The company sells through a large network of Authorized Installing Dealers, distributors and other channels, including retailers online and closetmaid.com.
ClosetMaid PRO's Professional Services Program assists builders, contractors, developers, designers, architects, and installers with the storage design, specification, and installation process. The program is complimentary – design and building professionals are appointed a ClosetMaid Pro Services Representative to take care of the details of storage product design and upgrades so that they can maintain a higher-level focus on their projects. ClosetMaid - Organized 1965
For more information, visit www.closetmaidpro.com.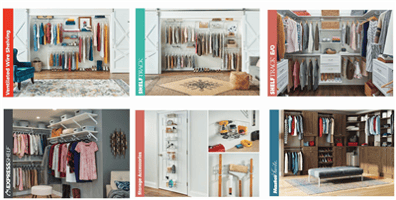 Product Categories
ADA Compliant Products/Services
Architectural Design Software
Assisted Living Products
Building Systems
Business-To-Business Internet Applications
Closet and/or Garage Organizing Systems
Furniture
---
Send Message