GAF is North America's largest roofing and waterproofing manufacturer and a part of Standard Industries, a privately-held global industrial company focused on building materials. GAF's products include a comprehensive portfolio of roofing and waterproofing solutions for residential and commercial properties as well as for civil engineering applications. The full GAF offering is supported by an extensive national network of factory-certified contractors. GAF continues to be a leader in quality and offers comprehensive warranty protection on its products and systems. The company's success is driven by a commitment to empowering its people to deliver advanced quality and purposeful innovation.

GAF's leadership extends to its commitment to making a positive social impact in the communities it serves. Through the GAF Community Matters initiative, GAF contributes its time, talents and financial resources to help create disaster resiliency, bring communities together through shared public spaces, and help neighbors in need.

Learn more at www.GAF.com.
GAF Energy Founded in 2019 by Standard Industries to drive scalable adoption of rooftop solar, GAF Energy is transforming the roofing industry to generate energy from every roof™. In addition to its role in a range of commercial solar projects, the company offers homeowners elegant, roof-integrated solar options through a national network of GAF-certified roofers. Learn more at www.gaf.energy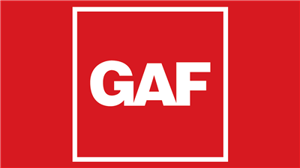 Product Categories
Flashing
Metal Roofing
Mold and Moisture Control
Ridge, Roof, and Soffit Ventilation
Roofing Materials/Services
Shingles and Shakes
Thermal & Moisture Protection