Genuine slate roofs remain the choice for elegance, longevity and durability—outperforming synthetics in every way.
Greenstone Slate's quarries have produced exceptionally fine quality stone for roofing slate for over a century. Greenstone has shipped slate all over the world for residential and institutional projects. Our quarries are located in the heart of what is known as the Slate Valley— a region primarily in Vermont, extending slightly into New York State. It is a region that has a history of producing some of the finest quality slate in the world. All Greenstone architectural roofing slate meets ASTM C406, and is rated S1, the highest available strength and longevity rating. Our stone is worked by Greenstone-trained craftsmen and our production facilities are continually updated and expanded to enhance our standards of excellence in manufacturing. This has led the Greenstone Slate Company to become a principal worldwide producer of colored slate roofing.
A Greenstone Slate roof can be expected to have a useful life range of 75 to more than 300 years. Beyond the prestigious ASTM S1, 75-year life expectancy rating, our slate is backed by Greenstone's 100-year warranty. We consistently deliver high-quality product, excellence in service and installation support, and competitive direct pricing—for the highest value possible in a slate roof.
This year at The International Builders' Show, we'll be highlighting the benefits of the Greenstone Slate's HAILFIRE™ ultimate roof! We'll also be demonstrating the breakthrough slate lightweight installation method—SlateTec—that reduces the weight of a genuine slate roof installation without compromise in protection or appearance. Genuine slate roofs can now be installed on nearly any new or re-roof project, even historical roof restorations that may have structural obstacles due to age, when a slate roof aesthetic and protection are desirable to maintain. A roof cross-section will be on display showing how SlateTec installation technology can reduce roof weight to under 6 pounds per square foot, can lower structural costs, and streamline the installation of the slate itself.
We invite architects, contractors, project managers, and building envelope specialists to visit our booth or contact us to discuss the long-term protection and environmental benefits of Greenstone® Vermont slate for any roofing or cladding project.
Greenstone Slate Brochure


Every Vermont slate roof is unique with its own natural character. It integrates with a building's overall design to offer an unequaled opportunity to create visual continuity with the surrounding environment. Learn more about Greenstone Slate and Vermont S1-rated roofing slate.

Show More
SlateTec Brochure


The SlateTec slate roof system is an innovative lightweight approach to installing a genuine Vermont slate roof. Using their very rugged interlayment, a SlateTec roof uses far less slate overlap than in a traditional slate installation. Learn more about SlateTec.

Show More
Greenstone Slate HailFire™ Brochure


HailFire™ roof performance goes well beyond its well-deserved, highest industry ratings — qualifications that other materials might just barely meet. The natural physical characteristics of Vermont slate is the basis of a HailFire roof.

Show More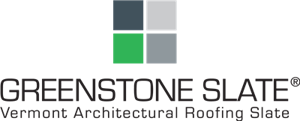 Product Categories
Exterior Cladding
Natural Stone
Roofing Materials/Services
Shingles and Shakes
Siding
Thermal & Moisture Protection
---
Send Message