Infratech has been a pioneer and leader in electric infrared technology for over 50 years. We offer a wide range of products for heating any outdoor entertaining space.
Infratech uses the latest manufacturing technologies to offer you the most efficient infrared systems for the lowest cost in the industry. We are your choice if heating a backyard patio or a complex mega resort; Infratech can provide the design, engineering, controls, and infrared equipment your property or facility requires.
Infratech is committed to providing high-quality, innovative products that exceed our customers' expectations. We have the technology and the people to achieve our promise of quality, delivery, and price. All our products are proudly made in the USA and covered by the best warranty in the industry. We look forward to keeping that promise with you.
Your home buyers will love the look and comfort they will gain, and you will love the additional revenue and excellent service you will receive.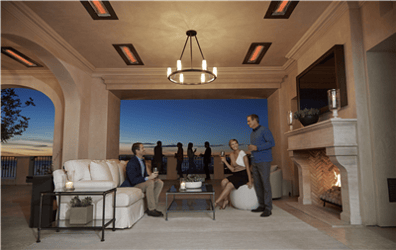 Product Categories
Air Conditioning, Heating & Ventilating Equipment
Barbecue Equipment (Grills, Hoods-Outdoor and Indoor)
Decks, Balconies and Patios
Radiant Heating
Swimming Pools and Equipment