Brilliant is the first smart home control system that can be affordably installed as a standard feature by every builder in every new home. Our award-winning system makes it easy to control popular smart home and security products, installs like a standard light switch, and improves the appeal, value, experience of your homes. It also helps builders differentiate their homes from competitors and offer model home tours with significantly more wow-factor.
Brilliant is currently installed as a standard feature by a growling number of top 100 builders including K. Hovnanian, Ashton Woods, Tri Pointe, History Maker, Woodside Homes, Pacesetter Homes, and many more. Brilliant is also included as a standard in numerous communities with homes starting as low as $200k, so it's truly an affordable solution for every home builder.
With Brilliant, builders can now market and showcase their homes as superior and easy-to-use smart homes. Brilliant-powered homes are controllable using built-in touchscreen controls and the all-in-one Brilliant mobile app. Standard smart home packages often include a Brilliant Control, Brilliant Smart Dimmer Switches, a smart thermostat, video doorbell, a smart lock, and can also include a monitored security and alarm system as well.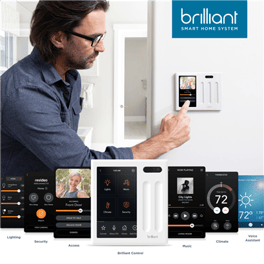 Product Categories
Control Systems
Home Automation
Home Control
Intercom Systems
Lighting Controls
---
Send Message