Get organized, complete your projects on time, and increase your profits. JobTread is end-to-end construction management software that helps you manage all of your business processes, from sales and estimating to project completion. The software serves as a central location to manage jobs, teams, budgeting, schedules, documents, photos, customers, vendors, sub-contractors, and more. Its budget-first approach creates financial transparency at every stage of a project.
Included Features:
Sales & Estimating
-Construction CRM
-Web Lead Capture Form
-Budget Templates & Cost Catalog
-Bid Requests
-Estimating
-Customer Selections
-Contracts & eSignatures
Project Management
-Purchase Orders
-Time Tracking
-Daily Logs
-Tasks & Scheduling
-Files, Photos, & Videos
-Customer & Vendor Portals
-Custom Views & Reporting
Finances & Cash Flow
-Change Orders
-Customer Invoices
-Collect Online Payments
-Sub & Vendor Bills
-Job Costing
-Quickbooks Online & Desktop Integration
Pricing
Monthly Pricing: $199 / month. Includes one user. Additional internal users cost $20/month. Tiered price breaks begin after 10 users. Billed monthly, no contracts.

Annual Pricing (Save 20%): $159 per month. Includes one user. Additional internal users cost $16/month. Tiered price breaks begin after 10 users. Billed annually.
Risk-Free Guarantee
-30 day money-back guarantee
-All features included!
-Unlimited jobs, documents, and files
-Unlimited customer and vendor portal users
-Data imports and pre-built job templates
-First-class implementation, training, and support
What makes JobTread different?
We believe construction management software should be three things: simple, flexible, and affordable. With JobTread, you're not just getting software... you're getting an expert team to support you in making your business better every step of the way. Choose to work smarter with job management software that grows with you.
The Best Software with the Best Service.
We believe in building great software and delivering the highest level of customer service. At the end of the day, we're not successful if you are not successful.
"Customer service is great. We always have a good conversation and I always get my questions answered. Any updates I ask for are being worked on, which is great." -Joe Trinidad, Bexar Essentials Remodeling LLC
Our customers love JobTread! But don't just take our word for it.
"JobTread has been a Godsend for me. It saves me so much time and cuts down on my estimating time exponentially. Previously, it took me 5-6 hours to do a 9-page estimate... now it only takes me 1 hour to make the same kind of estimate." -Rod Battle, Battle Home Renovations
"What makes JobTread unique is that it is very user friendly, has excellent customer service, and is affordable. Buy it, get it, you need it. It will help you. JobTread is a time saver. Do yourself a favor and get something that works." -Duane Holloway, Holloway Services
"Our previous system was difficult for all my team members to use. With JobTread, I am seeing higher employee and customer usage. JobTread is just more logical and simple for everyone." -Mark Redman, Lightpoint Designs
"Do it, just get JobTread. It is going to benefit you. It has literally made my life easier so I can't tell you enough, just get it." -Francisca Derouen, Texas Liberty Construction
Ready to Take the Next Step Toward Success?
Meet us at booth W3859 to learn more or visit www.jobtread.com/ibs for more information.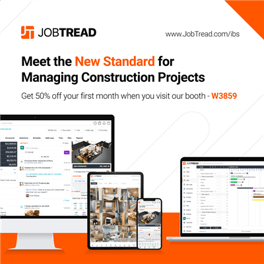 Product Categories
Bidding/Estimating Software
Construction Management
Estimating Systems
Project Management Software
Sales Management
Scheduling Software/Systems
Web Project Management
---
Send Message