AmeriSink is a leading supplier of kitchen and bathroom sinks for multifamily and single-family builders. We focus on lowering overall costs without the sacrifice of quality or service while returning choice and buying power to the builders.
AmeriSink uses more than 80% recycled materials in our stainless steel sink lines. As one of the leading sink manufactures, we strive to reduce our carbon footprint to help Mother Earth heal from the years of abuse she has endured. AmeriSink believes that it is humanity's responsibility to think out of the box and design a clean efficient product, ensuring that tomorrow will be a better day.
In addition to our stainless lineup, we also offer porcelain and quartz sinks that will fit every style and project imaginable.
At AmeriSink, you should expect more from your sink supplier.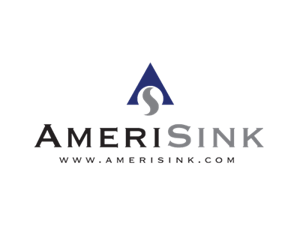 Product Categories
ADA Compliant Products/Services
Bathroom Accessories
Bathroom Equipment - Tubs, Lavatories, Tops, Bidets, Shower Stalls, Toilets
Granite
Kitchen Accessories
Sinks