Who We Are:
We started with the ambitious goal of providing the building industry with readily available Canadian-made PVC products. Including Siding, Soffit and Interior Wall/Ceiling panels. As of 2023, we are excited to introduce our new 2pc Column Wrap and Faux Beam. We took it one step further: manufacturing our products from 100% recycled heavy gauge PVC, allowing us to offer architects and developers an alternative choice for sustainable, LEED contributing products.
Our low maintenance products are available in a multitude of wood like, metallic, solid and anodized finishes that fulfill the highest expectations of style, performance and durability. In addition to our existing interior color collection, we are proud to introduce our new stone and marble finishes. Providing exceptional aesthetics, our products offer design versatility, ease of installation and cost-effectiveness while protecting the planet's built environment through reducing, re-using and recycling.
Mission:
We are a Canadian family owned business where Customer Service and Quality always remains our top priority. We strive to rise above industry standards for durable solutions that our customers are proud to display on their projects. The integration of sustainability objectives throughout the production process and the use of responsibly sourced materials ensure ChamClad® products will contribute to a positive impact on the environment.
Vision:
ChamClad's® vision is to continue to innovate and enhance the environmental performance of our products and manufacturing process. We are committed to environmental solutions that advance a sustainable future in the communities we do business in.
We're looking forward to seeing you there! (C2461)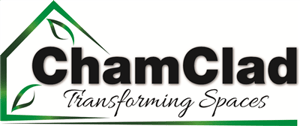 Product Categories
Building Materials
Ceiling Systems
Exterior Cladding
Siding
Soffit Systems
Walls/Wall Coverings