Dura started their production activities in 1993 with aluminum
joinery accessories. With quality production and customer
support, They added roller shutter and fly screen systems to their
product range. As of 2008, Dura expanded their services, retail sale, and
distribution of PVC door and window accessories and has become one
of the leading manufacturer companies in Turkey.
Dura provides services to more than 300 business partners in both
retail and wholesale systems and delivers their products on time
which prioritizes customer satisfaction. in recent years, they carried
their quality abroad and currently export aluminum profiles, PVC door
windows, and fly screen accessories to more than 50 countries all
around the world.
With their experience from the past and their trust in the future of the
aluminum industry, Dura invested in Aluminum Extrusion in 2013.
With their extrusion lines, surface treatment units, and mechanical
processing facilities, Dura offers aluminum profiles for industrial,
architectural systems, furniture, and automotive that are exported to
many countries.
With the new 21.000 m² factory investment made in 2021, 10.000 tons
of aluminum profiles are produced annually in Kocaeli Dilovasi KOBI
OSB.
In recent years, there have been serious difficulties in reaching
aluminum raw materials due to the pandemic, supply chain disruptions,
and geopolitical risks. For this reason, in 2022 a new 5,500 m² factory
was opened with the aim of both supplying the raw materials for the
extrusion lines and exporting. This factory is producing aluminum
billets suitable for 5-6-7-8-9-10-inch extrusion machines and has
50.000 tons annual capacity.
With years of design and production activities; Dura, which continues
with innovative approaches, continues to work at full speed on its way
to becoming a world-leading brand.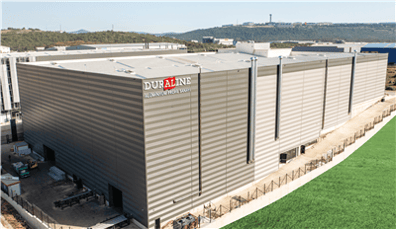 Product Categories
Architectural Ornaments
Building Systems
Composite Decking, Fencing, and Railing
Door Frames (Exterior and Interior)
Fences/Fencing
Walls/Wall Coverings
---
Send Message