Show-Site Banners & Signs Sponsorship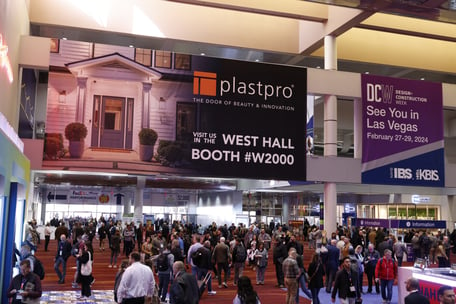 Show-site advertising is a proven way to increase traffic at your company's booth. Banners for all budgets, large or small exist. All prices include the banner receipt, handling, installation, and removal fees.
The deadline for artwork for any banners that must be produced by Freeman is January 19, 2024. Additional charges will apply to any files submitted after this deadline. This is a final deadline.
The IBS Aisle Sponsorship places your message over the top of all IBS exhibit aisles in the Show. Signs will be attached to the bottom of the aisle signs.

Promotional Investment: $27,500 exclusive

Place your brand right in front of attendees as they enter the LVCC. Door Clings will be placed at eye level and are sure to get you noticed.

Promotional Investment: $2,500 per door

Publication Bin Sponsorship

Place your magazine and graphic in front of attendees as they circulate through the LVCC. Publication Bins will be placed in high-traffic locations around the LVCC.

Promotional Investment:
Exhibitor Publication Bin $2,500 each
Non-Exhibitor Publication Bin $5,000 each
Advance pricing rates are available until January 19, 2024. Some items may be available after January 19, 2024, but could cost more due to higher production charges.
Interested In A Sponsorship Opportunity? Contact Us!






Lynn Margiotta


VP, Sponsorship & Advertising Sales


Custom Packages for IBS and Production Builders Executive Club




Exhibiting Companies: Key Accounts




P: (202) 266-8685




M: (202) 253-7143




[email protected]

Cheryl Lewis
Manager, Business Development
Craft Techniques Zone, Construction Performance Zone, Remodeling Central, Design Central, Best in American Living Awards
Exhibiting Companies: #, A-C
P: (202) 266-8208
[email protected]

Robin Habberley
Director, Business Development
Sales Central, Multifamily Central, The Nationals Awards
Exhibiting Companies: D-F
P: (202) 266-8051
M: (202) 615-3909
[email protected]

Kim Friedman
Manager, Business Development
Professional Women in Building
Exhibiting Companies: G-O
P: (202) 266-8208
M: (317) 340-4702
[email protected]

Michael Sutton
Manager, Business Development
Video Production Needs, Custom Building Central, 55+ Central
Exhibiting Companies: P-Z
P: (202) 266-8690
M: (240) 426-3994
[email protected]

Brian Rosenthal


Senior Manager, Sponsorship Operations


New Product Zone and Sponsorship Operations




P: (202) 266-8188




[email protected]