Smart Power Partners developed SwitchOutTM modular switches, outlets, and inserts so builders can increase the value of a home without increasing costs. Builders install SwitchOutTM base switches and outlets instead of traditional switches and outlets. Homebuyers then upgrade and customize in seconds without an electrician by inserting modular dimmers, occupancy sensors, smart WiFi switches, outlets with USB ports, nightlights and more. SwitchOutTM products allow builders to offer homebuyers unlimited simple and smart home customization options without builders incurring the costs of customization.
Visit https://www.smartpowerpartners.com/ to see a one minute video description of SwitchOut products.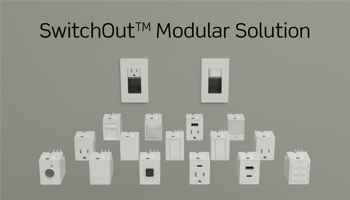 SwitchOutTM modular solution
Builders install SwitchOutTM modular switches and outlets
with standard wiring, blue boxes, and face plates. Homebuyers add inserts to customize and upgrade in seconds without an electrician.

Product Categories
Home Automation
Home Control
Home Networks
Lighting Controls
Wireless Networking Systems
Wiring & Wiring Devices